An Introduction to 

5G NR Technology

5G is the fifth generation cellular network technology. The industry association 3GPP defines any system using "5G NR" (5G New Radio) software as "5G", a definition that came into general use by late 2018. 5G NR follows 2G, 3G and 4G and their respective associated technologies (such as GSM, UMTS, LTE, LTE Advanced Pro and others)
Some networks use millimeter waves (mmWave) for 5G.  Millimeter waves have shorter range than microwaves, therefore the cells are limited to smaller size; The waves also have trouble passing through building walls, hence these networks need to be deployed in conjunction with lower-frequency coverage to ensure seamless user experience. Millimeter wave antennas are smaller than the large antennas used in previous cellular networks.
Another technique used for increasing the data rate is massive MIMO (multiple-input multiple-output).  This works at shorter distances only, so is ideal for dense city areas.
5G can support up to a million devices per square kilometre, while 4G supports only up to 100,000 devices per square kilometre
New Radio (NR) 5G Technology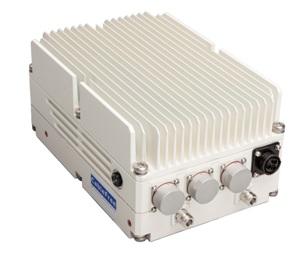 A 5G Base Station uses New Radio (NR) technology and is referred to as a gNodeB (gNb). gNodeB radios features Software Defined Radio (SDR) with various MIMO options including 2×2, 4×4, 8×8 and Massive MIMO options for higher capacities. Options for 5G deployment in Sub-6GHz bands as well as Millimeter Wave (mmWave) bands are available.
Frequency bands for 5G NR are being separated into two different frequency ranges.
Frequency Range 1 (FR1) includes sub-6GHz frequency bands, some of which are bands traditionally used by previous standards, but has been extended to cover potential new spectrum offerings from 410 MHz to 7125 MHz.
Frequency Range 2 (FR2) includes frequency bands from 24.25 GHz to 52.6 GHz. Bands in this millimeter wave range have shorter range but higher available bandwidth than bands in the FR1
5G-NSA vs 5G-SA
Current 5G wireless devices also have 4G LTE capability, as the new networks use 4G for initially establishing the connection with the cell, as well as in locations where 5G access is not available.  The current 5G networks use "non-standalone" (NSA) mode which requires simultaneous connection of 4G and 5G-NR radios to the user device.  Future 5G networks will use 5G-SA (standalone) mode, which allows operation without a 4G network in the area.
For More Information
For further information on the range of CableFree wireless networking products:
Please Contact Us